Getting Started
projectLAMBDA Tuner software lets you unlock the full potential of your Subaru ECU. With it, you can tune, data log, and read/clear trouble codes all in one simple package.
Installation
Head over to the Downloads page to get the installer.
Run the downloaded installer.
Run projectLAMBDA Tuner.
User Data Structure
The installer will create a folder named Documents/projectLAMBDA to store your data. The structure of this folder is as follows:
/Documents/projectLAMBDA
 ├── /Datalogs
 ├── /Logs
 ├── /Profiles
 └── tuner_settings.xml

Datalogs - Recorded Data Logs are stored here.
Logs - Message logs are stored here. These contain useful information to help when you need to resolve a problem with the software.
Profiles - The default location for Logging Profiles.
tuner_settings.xml - This file contains user settings.
User Interface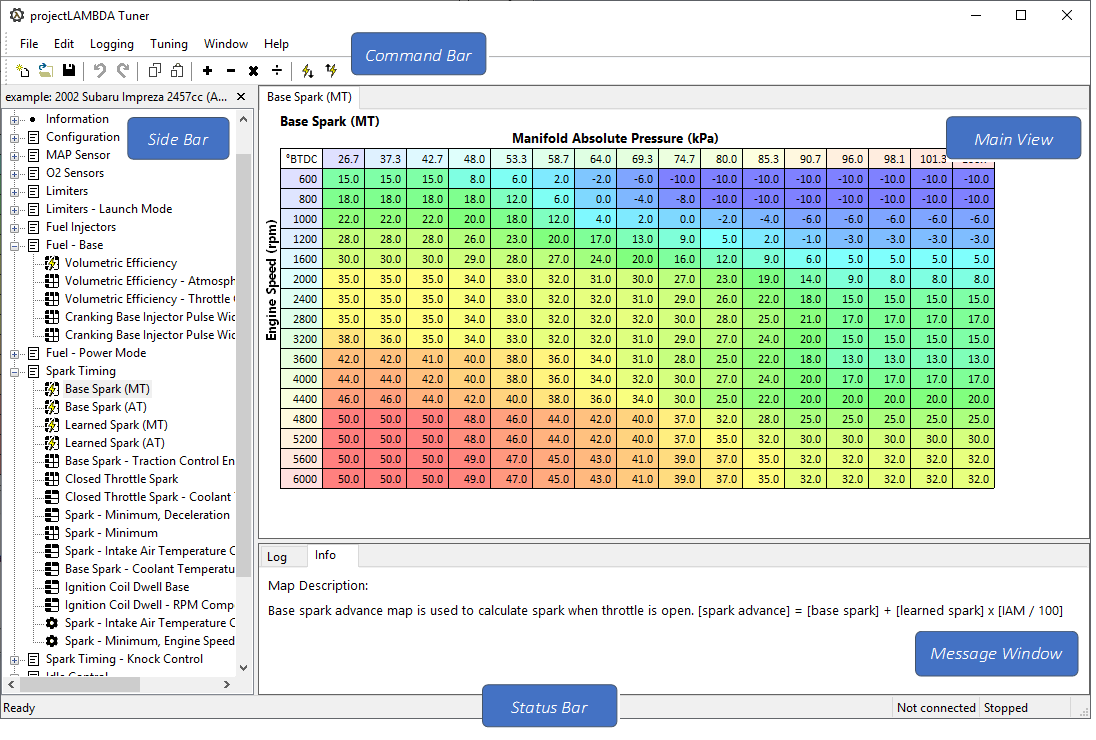 Main View - The main window where you can edit maps or view ECU information. Tabs allow you to quickly switch between open views.
Side Bar - A tree of selectable items that change what is displayed in the main view. Hold SHIFT down while clicking an item to open in a new tab.
Command Bar - Contains commands to work with tune files and ECU operations.
Message Window - Tabs can show information about current view or logged messages.
Status Bar - Shows information about Command Bar items and current connection state.